It is only your shower, but think about how many times you see it throughout the day. A beautiful custom glass shower enclosure or door will add beauty to your morning routine. It is one of the little things in life which can make a large difference.
Homeowners who are considering a bathroom remodel should know the benefits of installing a customizable glass shower door or enclosure.
Three reasons why you need to consider a custom glass for your shower in Victorville: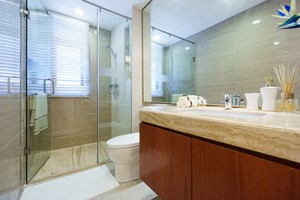 Create a look of sophistication. There are so many options to choose from when buying a custom glass door for your shower. It is easy to find the perfect design to fit your decorating style. You can select a clear, frosted, or even a decorative art design to improve the look of your bathroom and to create a stunning focal point.
Add value to your home. Spending money on your home's bathrooms offers one of the best return on your investment when it comes to remodeling. Beautiful, newer bathrooms are one of the key buying points most Apple Valley homebuyers look for before purchasing a home. Upgrading your older bathrooms with a new custom glass shower door lets you enjoy your bathroom today while allowing you to get more for your home if you decide to sell it in the future.
Makes your shower easier to keep clean. Shower curtains often mildew or stain, and they are hard to keep germ-free. When you install a glass door for your shower, a quick and regular cleaning is all it takes to keep your shower germ-free. and looking great. Installing a frameless all-glass shower enclosure helps you say "good-bye" to rust stains forever.
Vern's Glass has been serving the High Desert area since 1957. The company is an expert at installing custom glass shower doors and enclosures, and offers its customers a complete range of beautiful and durable glass products, including a selection of high-end Cardinal Glass Enclosures, all at an affordable price. Call, or visit Vern's Glass to find out how life is better with glass.